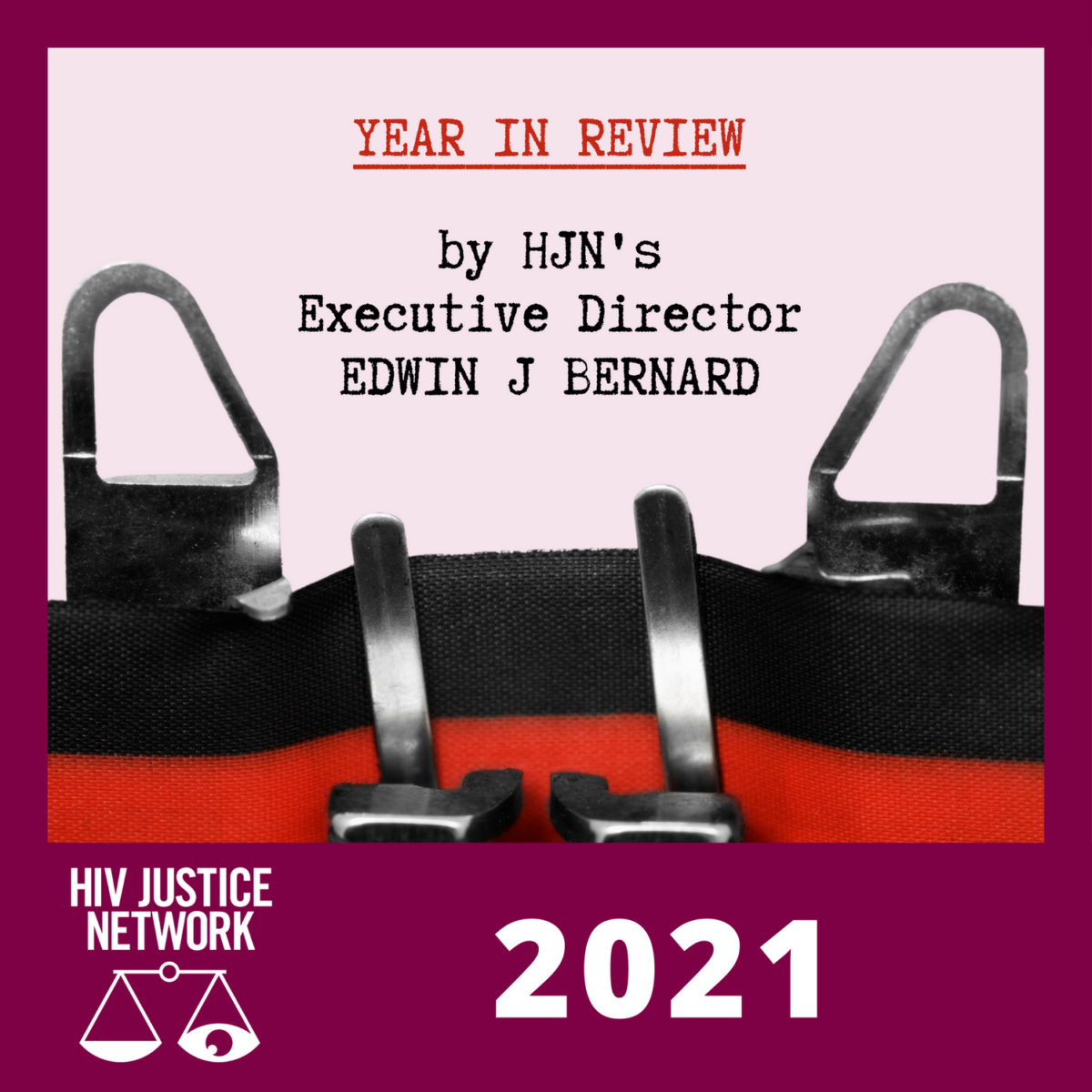 This past year we've been challenged yet again due to the COVID-19 pandemic. As well as the impact on each of us, personally, the legal and policy decisions relating to its control – and their enforcement – have significantly impacted people living with HIV who are already criminalised or otherwise marginalised, which we have been continuing to highlight in our HIV Justice Weekly newsletter.
And as COVID-19 continues to dominate not only policymaking and law enforcement activities, but also media headlines, it seems very likely that relying primarily on media reports to document unjust cases of HIV criminalisation underestimates how many people are affected.
This past year we documented 54 media reports of unjust HIV criminalisation cases in 20 countries. This compares to 91 cases in 25 countries last year, which was still fewer than reported in previous years.
Although this could be seen as a cause for celebration, I fear that the reason we are seeing fewer media reports is not because of fewer cases, but because the media is distracted by COVID-19 and just isn't reporting on them. For example, we only recorded one media report of a horribly unjust case in Belarus in January 2021 but on World AIDS Day 2021 the official Telegram account of Investigative Committee of Belarus reported that there had actually been 34 HIV-related criminal cases in 2021.
After Belarus, the highest number of case reports came from Russia, where it was also reported that over the past five years, Russian courts have acquitted only one defendant under its problematic HIV-specific criminal law. The United States, Canada and France make up the rest of the top five. Alarmingly, women living with HIV were accused in 33% of all reported cases in 2021, up from 25% last year.
We will be providing a much more detailed analysis of laws and cases – and the remarkable advocacy successes and achievements – in the next edition of our Advancing HIV Justice progress report, covering January 2019 – December 2021, which we plan to publish by the end of the first quarter of next year.
Despite the impact of COVID-19 on our ability to organise – and a growing acceptance of punitive approaches to a public health issue – this year we've also seen some remarkable advocacy in the global movement to end HIV criminalisation, none more so than across the United States.
In March, both Georgia and Virginia modernised their HIV criminalisation laws and in June and July Nevada and Missouri did the same. And in July Illinois completely repealed its outdated and unjust HIV-specific criminal law, becoming only the second US state ever to do so. In October, New Jersey's Acting Attorney General issued science-informed prosecutorial guidance to limit the overly broad application of its HIV criminalisation law, and in December, on World AIDS Day, President Biden became the first-ever government leader to speak out against HIV criminalisation laws whilst in office. The year ended on a high with proposals to modernise HIV criminalisation laws in Florida and on a federal level.
The remarkable successes in the United States didn't happen overnight – the movement to end HIV criminalisation has been nurtured – and increasingly better funded – for more than a decade. This is why our focus has turned to other parts of the world – notably Eastern Europe and Central Asia, sub-Saharan Africa, Latin America and the Caribbean – where many challenges remain.
In May, a new parliamentary bill in Ukraine proposed expanding its already problematic HIV-specific criminal law with harsher sentences for transmitting all serious communicable diseases, and Uganda passed a new Sexual Offences Bill with horrendous implications for people living with HIV, gay men and sex workers. Fortunately, neither have been enacted into law, yet.
We also saw advocacy successes in these regions, too. In Uganda, after five years of waiting, the Constitutional Court of Uganda has finally begun to hear a landmark case challenging the overly broad and draconian provisions of its HIV and AIDS Prevention and Control Act. In Mexico, the 'danger of contagion' law used by many Mexican states to prosecute people living with HIV was found to be unconstitutional by a court in the federal district of Mexico City, with proposals for its full repeal presented in November. Also in November, the Committee on the Elimination of Discrimination against Women (CEDAW) recommended the removal of Kyrgyzstan's HIV-specific criminal law, thanks to a powerful shadow report by our HIV JUSTICE WORLDWIDE partners, the Eurasian Women's Network on AIDS.
There is still so much more to do, however. That's why, for example, we produced a brand-new section of our HIV Justice Toolkit specifically to help defend people living with HIV who are prosecuted for breastfeeding, chest feeding or comfort nursing, and why HIV JUSTICE WORLDWIDE launched a briefing paper and video in October to help advocates understand the complexities – and consequences – of molecular HIV surveillance.
Despite these successes, as well as the many milestones the HIV JUSTICE WORLDWIDE movement has achieved since its launch in 2016, we will not rest until everyone living with HIV in all their diversity is treated equally, fairly, and justly by all actors of the criminal legal and public health systems.