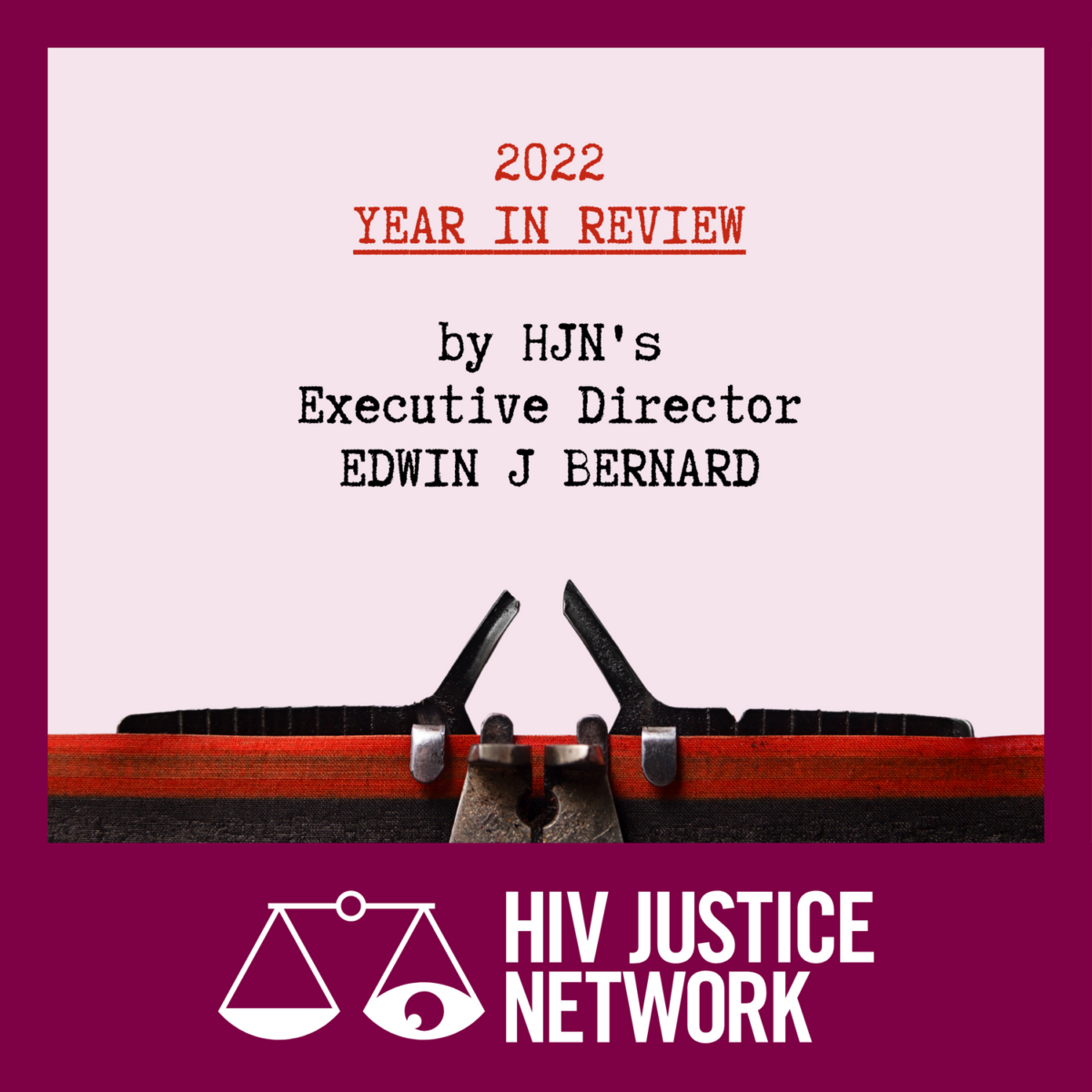 Looking back on all that happened in 2022, we are cautiously optimistic that 2022 will be seen as a turning point in the global movement to end HIV criminalisation. We celebrated promising developments in case law, law reform and policy in many countries and jurisdictions over the past year, building on the momentum of 2021. Although there is much more work yet to do, it's clear that progress is being made — thanks primarily to the leadership of people living with HIV.
Continuing a trend that began two years ago, overall there seems to have been a decline in the number of HIV-related prosecutions. This year we identified media reports of 49 new HIV criminalisation cases in 16 countries plus seven US states. This compares to 54 new cases in 20 countries last year (which was still fewer than reported in previous years). This year, the highest number of case reports came from Russia, followed by the United States (with multiple cases in the state of Florida), and France.
It is possible that we are seeing fewer media reports because there are actually fewer cases, but we must always consider these known cases to be illustrative of what is likely a more widespread, poorly documented use of criminal law against people living with HIV. The media, public health authorities and law enforcement may still be distracted by the global financial crisis precipitated by Russia's invasion of Ukraine and the impact of COVID-19 — a pandemic that continues to disproportionately impact people living with HIV.
After being near the top in previous years, Belarus has been bumped off the 'most cases' list. Last year, the Belarus Investigative Committee reported 34 new HIV-related criminal cases. It's highly likely that this year there were some (unreported) cases, but it's also clear that the number of cases has been slowing down since 2020, possibly due to ongoing discussions with the government to limit the use of the criminal law.
Canada used to be a global leader in HIV criminalisation, but no new cases were reported this year. In fact, the only case reports from Canada were about the overturning of a conviction by the Ontario Court of Appeal after it accepted there was no realistic possibility of transmission as the accused woman had an undetectable viral load, and another Ontario Court of Appeal acquittal based on the accused man's elite controller status. These positive rulings follow many years of sustained advocacy, which has also led to the federal government opening a public consultation on reforming the criminal law. The Canadian Coalition to Reform HIV Criminalization has welcomed this consultation as a first step to concrete action on law reform.
Earlier this year, Taiwan's Supreme Court also recognised the prevention benefit of treatment by upholding the acquittal of a man with an undetectable viral load who was accused of alleged HIV exposure. But elsewhere in Asia, Singapore continues to unjustly prosecute gay men living with HIV under draconian laws, despite being celebrated for recently repealing their colonial-era law that criminalised sex between men. Singapore is also the world leader in prosecuting gay men for not disclosing a possible HIV risk before donating blood. That's why we issued our Bad Blood report in September, which concludes that the criminalisation of blood donations by people with HIV is a disproportionate measure — the result of both HIV-related stigma and homophobia, and not supported by science.
In the United States, we continued to see a reduction in the number of states with HIV-specific criminal laws thanks to the ongoing advocacy by networks of people living with HIV supported by human rights and public health organisations. In 2022, Georgia modernised its law and New Jersey became the third US state to fully repeal its HIV-specific criminal law. President Biden again highlighted HIV criminalisation in his World AIDS Day proclamation stating that "outdated laws have no basis in science, and they serve to discourage testing and further marginalize HIV-positive people." In October, the Presidential Advisory Council on HIV/AIDS unanimously passed an historic resolution on molecular HIV surveillance that will be critical to protecting the human rights and dignity of people living with HIV. But problematic new laws continue to be enacted despite strong opposition from civil society. In November, Pennsylvania's Governor, Tom Wolf, signed into law an overly broad, unscientific statute that makes it a felony to pass on a communicable disease, including HIV, when someone "should have known" they had the disease.
There was also mixed news from the African continent. In March, Zimbabwe became the second African country to repeal its HIV-specific law (the Democratic Republic of Congo repealed its law in 2018). This victory is testament to the effectiveness of a multi-year, multi-stakeholder campaign that began with civil society advocates sensitising communities and parliamentarians, notably the Honourable Dr Ruth Labode, Chairperson of Parliamentary Portfolio Committee on Health and Child Care. She began pushing for a change in the law in 2018, having previously been in favour of the provision which she thought protected her female constituents. And in October, the Central African Republic also enacted a new HIV law that focused primarily on social protections for people living with HIV, without any criminalising provisions.
Also in October, the Lesotho High Court issued a positive judgment following a constitutional challenge to sections of the Sexual Offences Act that impose a mandatory death sentence on persons convicted of sexual offences if they were living with HIV. Following interventions from members of the HIV JUSTICE WORLDWIDE coalition and others, the Court ruled that people living with HIV have the same right to life as all others — and commuted the sentence.
The news elsewhere on the continent, however, wasn't so positive. After six years of waiting, a constitutional challenge to some of the most problematic, criminalising sections of Uganda's HIV/AIDS Prevention and Control Act was dismissed outright in November. We are anxiously awaiting the ruling in a similar challenge in neighbouring Kenya. It was filed five years ago and has since been postponed several times. This year, we also lost Ugandan nurse and HIV criminalisation survivor, Rosemary Namubiru, who was a posthumous recipient of the Elizabeth Taylor Legacy Award at this year's International AIDS Conference.
Women — who were accused in around 25% of all newly reported cases this year — also face criminal prosecution in relation to breastfeeding or comfort nursing, mostly across the African continent. In addition, women living with HIV continue to be threatened with punitive public health processes and child protection interventions for breastfeeding their children in multiple countries. That's why this year we created the short film, Mwayi's Story, to highlight the injustice and facilitate discussion about HIV and breastfeeding. We also worked with our HIV JUSTICE WORLDWIDE coalition partners to publish a paper in the peer-reviewed, open access journal Therapeutic Advances in Infectious Diseases to highlight these problematic and unjust approaches to women with HIV who breastfeed or comfort nurse.
This year, we learned from the Eurasian Women's Network on AIDS, working with the Global Network of People Living with HIV, about how women living with HIV are both disproportionately impacted by HIV criminalisation across the Eastern Europe and Central Asia (EECA) region and also leaders in research, advocacy and activism against it. Their report illustrates how HIV criminalisation and gender inequality are intimately and inextricably linked. Case studies include a woman in Russia who was prosecuted for breastfeeding her baby and several women in Russia who were blackmailed by former partners who threatened to report them for alleged HIV exposure as a way to control, coerce, or abuse them.
The disproportionate impact of HIV criminalisation on women was also the focus of a World AIDS Day statement by the Organization of American States (OAS) calling on Member States to end HIV criminalisation. Earlier in the year, Argentina had enacted a new, comprehensive and non-punitive HIV, STI and TB law.
Nevertheless, there is still so much more to do to reach the global target of fewer than 10% of countries with punitive laws and policies that negatively impact the HIV response. To keep up the momentum, we continued to produce reports and analysis — including our flagship Advancing HIV Justice 4: Understanding Commonalities, Seizing Opportunities — as well as contributed to peer-reviewed journal articles, such as So many harms, so little benefit in the Lancet HIV and Punishing vulnerability through HIV criminalization in the American Journal of Public Health. We're also doing our best to ensure we change the media narrative on HIV criminalisation, including by contributing to The Guardian's World AIDS Day podcast on HIV criminalisation.
Our greatest achievement this year was the creation of the HIV Justice Academy. We are very proud of this online platform for e-learning and training which we believe will be a catalyst in building the wider movement to end punitive laws and policies that impact people living with HIV in all their diversity. Already available in English and French, we'll be launching in Spanish and Russian early next year.
Did we turn the corner in 2022? Only time will tell, but if there is one thing we know for sure it is that changing hearts and minds with respect to HIV criminalisation is a long road with many ups and downs along the way. We know that important progress was made in 2022 and that we begin 2023 with fresh analysis, new tools and a renewed spirit of solidarity.